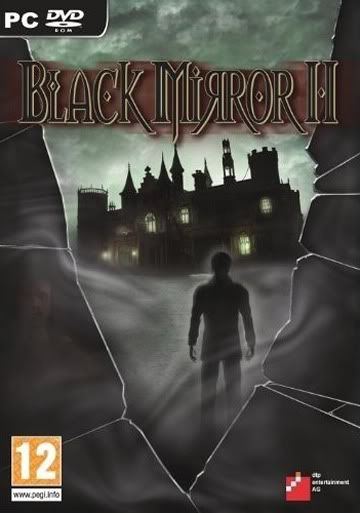 Genre: Adventure
Publisher: DTP Entertainment AG
Developer: Future Games
lack Mirror II takes place in the 1990's, twelve years after the original game. Solitary Darren meets the cute Angelina while he is working at the local photo shop of Biddeford, a small town in New England. Angelina also catches the eye of Darren's despotic, unpopular boss. To add to the mystery, there seems to be a third person interested in Angelina — Darren sees someone chasing her. He decides to investigate these incidents, and his research soon lead him to several locations, such as the small English village of Willow Creek that players will know from the first game.



Minimum System Requirements
Intel Pentium IV or equal processor with 1.4 GHz (Intel Dual-Core or equal processor with 2.0 GHz)
Windows XP with 512 MB RAM (Windows Vista x32/x64 with 1GB/2 GB RAM)
128 MB Graphics card like ATI Radeon 9800 or NVidia GeForce 6800 with Shader 2.0 (like: ATI NVidia GeForce 7000 Series with 256 MB and Shader 3.0)
DirectX 8 (9.0c) compatible sound card
6GB Hard drive space on DVD-Rom-drive


Download Link
Code:
http://rapidshare.com/files/384858755/mavros.ka8reftis2.prpr.skdr.part01.rar
http://rapidshare.com/files/384855757/mavros.ka8reftis2.prpr.skdr.part02.rar
http://rapidshare.com/files/384855504/mavros.ka8reftis2.prpr.skdr.part03.rar
http://rapidshare.com/files/384857360/mavros.ka8reftis2.prpr.skdr.part04.rar
http://rapidshare.com/files/384858178/mavros.ka8reftis2.prpr.skdr.part05.rar
http://rapidshare.com/files/384857315/mavros.ka8reftis2.prpr.skdr.part06.rar
http://rapidshare.com/files/384857443/mavros.ka8reftis2.prpr.skdr.part07.rar
http://rapidshare.com/files/384858606/mavros.ka8reftis2.prpr.skdr.part08.rar
http://rapidshare.com/files/384857327/mavros.ka8reftis2.prpr.skdr.part09.rar
http://rapidshare.com/files/384858391/mavros.ka8reftis2.prpr.skdr.part10.rar
http://rapidshare.com/files/384858777/mavros.ka8reftis2.prpr.skdr.part11.rar
http://rapidshare.com/files/384857511/mavros.ka8reftis2.prpr.skdr.part12.rar
http://rapidshare.com/files/384857899/mavros.ka8reftis2.prpr.skdr.part13.rar
http://rapidshare.com/files/384859073/mavros.ka8reftis2.prpr.skdr.part14.rar
http://rapidshare.com/files/384857825/mavros.ka8reftis2.prpr.skdr.part15.rar
http://rapidshare.com/files/384858196/mavros.ka8reftis2.prpr.skdr.part16.rar
http://rapidshare.com/files/384857336/mavros.ka8reftis2.prpr.skdr.part17.rar
http://rapidshare.com/files/384858130/mavros.ka8reftis2.prpr.skdr.part18.rar
http://rapidshare.com/files/384855914/mavros.ka8reftis2.prpr.skdr.part19.rar



Old links (extract with 7-zip)
http://rapidshare.com/files/384572898/mavros.ka8reftis.skdr.proper.part01.rar
http://rapidshare.com/files/384574564/mavros.ka8reftis.skdr.proper.part02.rar
http://rapidshare.com/files/384572837/mavros.ka8reftis.skdr.proper.part03.rar
http://rapidshare.com/files/384573031/mavros.ka8reftis.skdr.proper.part04.rar
http://rapidshare.com/files/384573298/mavros.ka8reftis.skdr.proper.part05.rar
http://rapidshare.com/files/384574044/mavros.ka8reftis.skdr.proper.part06.rar
http://rapidshare.com/files/384573750/mavros.ka8reftis.skdr.proper.part07.rar
http://rapidshare.com/files/384574827/mavros.ka8reftis.skdr.proper.part08.rar
http://rapidshare.com/files/384574039/mavros.ka8reftis.skdr.proper.part09.rar
http://rapidshare.com/files/384573804/mavros.ka8reftis.skdr.proper.part10.rar
http://rapidshare.com/files/384573121/mavros.ka8reftis.skdr.proper.part11.rar
http://rapidshare.com/files/384573705/mavros.ka8reftis.skdr.proper.part12.rar
http://rapidshare.com/files/384573457/mavros.ka8reftis.skdr.proper.part13.rar
http://rapidshare.com/files/384572834/mavros.ka8reftis.skdr.proper.part14.rar
http://rapidshare.com/files/384572466/mavros.ka8reftis.skdr.proper.part15.rar
http://rapidshare.com/files/384574029/mavros.ka8reftis.skdr.proper.part16.rar
fixed part 6:
http://rapidshare.com/files/384695818/sr-bm2p.r06
Code:
http://www.megaupload.com/?d=XCQCQ21U
http://www.megaupload.com/?d=Y9NDERTO
http://www.megaupload.com/?d=0IRN6669
http://www.megaupload.com/?d=8JAMTHJH
http://www.megaupload.com/?d=62ZC918U
http://www.megaupload.com/?d=JJDHITCH
http://www.megaupload.com/?d=5UZT4XDJ
http://www.megaupload.com/?d=Z2LKSILW
http://www.megaupload.com/?d=28YGPB9J
http://www.megaupload.com/?d=Y12NPU3C
http://www.megaupload.com/?d=F72YYE45
http://www.megaupload.com/?d=JEH62SDN
http://www.megaupload.com/?d=AFFGVMH2
http://www.megaupload.com/?d=PYJQCC77
http://www.megaupload.com/?d=WMGZXSTE
http://www.megaupload.com/?d=CSYXJ3KS
http://www.megaupload.com/?d=P07KG07B
http://www.megaupload.com/?d=R5H8BWZ0
http://www.megaupload.com/?d=U6GZS2W4
Code:
http://www.netload.in/dateiQXZZfP29S9/mavros.ka8reftis2.prpr.skdr.part01.rar.htm
http://www.netload.in/dateivXF6KmGuut/mavros.ka8reftis2.prpr.skdr.part02.rar.htm
http://www.netload.in/dateiyFGdFfc0M3/mavros.ka8reftis2.prpr.skdr.part03.rar.htm
http://www.netload.in/dateiye66FtsCy3/mavros.ka8reftis2.prpr.skdr.part04.rar.htm
http://www.netload.in/dateiVHYNtmpfOE/mavros.ka8reftis2.prpr.skdr.part05.rar.htm
http://www.netload.in/datei1XJFlZSGOs/mavros.ka8reftis2.prpr.skdr.part06.rar.htm
http://www.netload.in/dateikEq29tApVx/mavros.ka8reftis2.prpr.skdr.part07.rar.htm
http://www.netload.in/dateilbAaqbynlZ/mavros.ka8reftis2.prpr.skdr.part08.rar.htm
http://www.netload.in/dateiXc258Y9E5t/mavros.ka8reftis2.prpr.skdr.part09.rar.htm
http://www.netload.in/datei9EJIOPn8Yn/mavros.ka8reftis2.prpr.skdr.part10.rar.htm
http://www.netload.in/dateiPZSnY7spIQ/mavros.ka8reftis2.prpr.skdr.part11.rar.htm
http://www.netload.in/dateiMaEFQMIbQH/mavros.ka8reftis2.prpr.skdr.part12.rar.htm
http://www.netload.in/dateizdYmx02kxI/mavros.ka8reftis2.prpr.skdr.part13.rar.htm
http://www.netload.in/dateiW5nyN6evCm/mavros.ka8reftis2.prpr.skdr.part14.rar.htm
http://www.netload.in/dateirHZga3H5XL/mavros.ka8reftis2.prpr.skdr.part15.rar.htm
http://www.netload.in/dateiUjnMy8CYpm/mavros.ka8reftis2.prpr.skdr.part16.rar.htm
http://www.netload.in/dateisLtfaLxz6w/mavros.ka8reftis2.prpr.skdr.part17.rar.htm
http://www.netload.in/dateinF0MVWuqtB/mavros.ka8reftis2.prpr.skdr.part18.rar.htm
http://www.netload.in/dateiw3rANtfpK2/mavros.ka8reftis2.prpr.skdr.part19.rar.htm
Code:
1. Unpack release
2. Mount image or burn it
3. Install
4. Copy the content from the SKIDROW folder on the DVD to your
installation directory and overwrite
5. Play the game